2018 Camp Schedule
Registration opens March 12th at noon!
Did you know, that our content changes every year even if the camp name stays the same? That means that if your camper was in a camp last year, they can sign up for the same one this year and experience an amazing new week!
If a camp is full, please feel free to follow the same registration process to be put on the wait-list.
For more camp information please scroll down. Please note the following levels apply to the grade your child will be attending in Fall of 2018. Ex: Child entering Gr 2 in Fall 2018 is considered a Gr 2-3.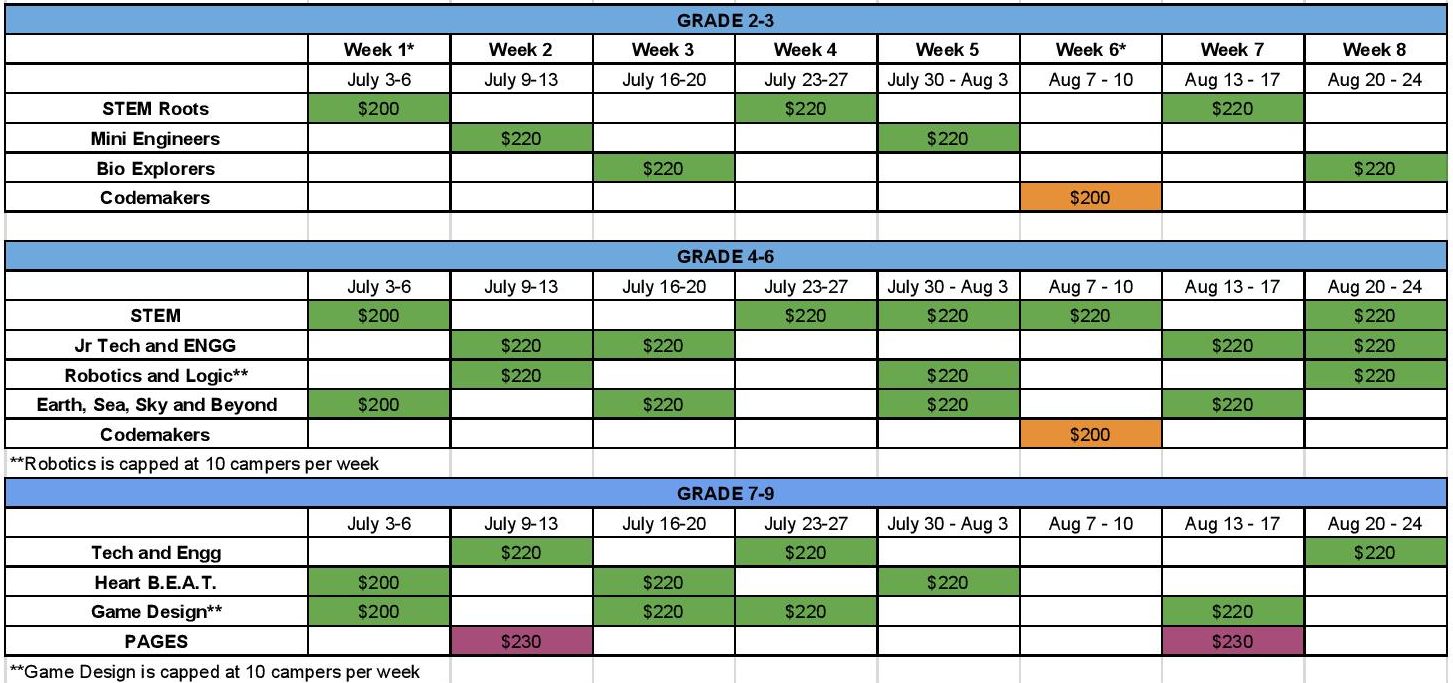 Cost of camps: (9am – 4pm)
$230 for P.A.G.E.S. Camp
$200 for a 4 day week
$220 for all other weeks including Kincardine
Extended Care
Cost to attend camp 8am – 5pm is an additional $50 on top of the costs for the camps listed above.
Camp Descriptions (2018)
Codemakers Camps – Featuring Google Codemakers!
Gr 2-3, Gr 4-6
Youth will have the opportunity to participate in a unique Codemakers experience. Codemakers provides youth with  hands-on computer science and technology programming designed to give them the technical skills, expertise, and confidence to pursue big ideas and become tomorrow's technology builders. Codemakers is an Actua program, powered by Google. For more information see www.actua.ca/codemakers. This is an opportunity that your camper won't want to miss!
---
 S.T.E.M. Roots – Grade 2-3 General Science, Technology, Engineering and Math
Explore and discover the entire STEM world! From science experiments and computer skills to engineering projects and math games, campers will have opportunities to uncover their interests and learn in a fun and dynamic way! This program offers a view into each area of STEM to serve as an introduction to such topics, building off of what kids learn in school.
---
Mini Engineers – Grade 2-3 Engineering
Grab your thinking caps; it's time to build! Campers in Mini Engineers will have opportunities to explore basic concepts in physics and design, such as learning about the roles of different kinds of engineers and how they apply their knowledge to the real world around us. The camp will be very hands-on in nature, and provide many opportunities to build and test designs.
---
Bio Explorers – Grade 2-3 Living Sciences
There's a whole world out there, and it's closer than you think! Campers in Bio Explorers will learn all about the natural world; they will learn about human and animal bodies, ecosystems and biodiversity, and the environment that lets us all live on Earth. The camp will feature lots of time outside, including trips to the arboretum and a variety of facilities on campus.
---
STEM – Grade 4-6 General Science, Technology, Engineering and Math
STEM 4-6 offers a deeper view into the STEM world! The camp will bring together elements of many different STEM fields, such as Biology, Physics, Engineering, Computer Science, and many more! Campers will have opportunities to engage in a variety of projects and activities across a busy week of exploring the world of STEM!
---
Jr. Tech and Engineering – Grade 4-6 Engineering and Technology
Jr. Tech and Engineering offers a deeper view into the world of Engineering, technology and design. Campers will have broad opportunities to learn basic engineering concepts and then apply them to projects to see their use in the everyday world. The camp will feature a greater emphasis on the role and responsibility engineers have regarding society and the environment.
---
Robotics and Logic – Grade 4-6 Robotics
This year we are proud to bring back our robotics program! Campers in Robotics and Logic will have a full week to learn how to solve problems using a variety of robotics kits. Focus will be placed on building robots, programming them, and then combining skills to solve open ended problems, using a variety of tools including sensors and motors. This camp is limited at 10 campers per week.
---
Earth, Sea, Sky, and Beyond – Grade 4-6 Geography and Earth Sciences
Fun fact: there's more to Geography than colouring maps! Our new program offering this year is Earth, Sea, Sky and Beyond! Incorporating elements from topics such as Environmental Science, Oceanography, Astronomy, and for the first time, Geography, campers will have opportunities to learn more about the Earth we live on, and the Universe around us! Campers will explore environmental issues such as climate change, learn about natural phenomena like volcanoes, earthquakes and hurricanes, and learn about technology related to such fields of study.
---
Tech and Engg. – Grade 7-9 Engineering and Technology
Our senior engineering camp offers extensive and in-depth activities to teach and make use of more advanced concepts in engineering. Campers will learn about topics such as applied physics, such as those used in machines and structures, electrical systems, and design principles. There will be multiple hands-on projects highlighting these concepts, and chances to learn about how to pursue futures in engineering and physical sciences. A field trip to meet working engineers will be a component of the camp.
---
Heart B.E.A.T. – Grade 7-9 Life Sciences
Heart BEAT zooms in on the world of life sciences; Biology, Environment, Animals and Technology. Covering topics related to fields such as human and animal physiology, medicine, biomechanics, environmental impacts, and veterinary practice, campers will have opportunities to discover the breadth of life, technology used in such practices, and pathways to related careers.
---
Game Design – Grade 7-9 Computer Science and Game Development
Game Design focuses on skills related to computer programming and software implementation, specifically targeting the development of video games. Campers will learn how to create objects, characters, game interactions, controls, and more. In addition, non-programming skills related to gaming will be developed, such as conceptualizing gameplay and themes. This camp is limited to 10 campers a week.
---
P.A.G.E.S. – Grade 7-9 "Promoting Awareness of Girls in Engineering & Science" – Includes Extended Day with Dinner
PAGES is our all-girls program to foster an interest and passion for STEM amongst young women! PAGES explores many STEM related topics and ideas, giving campers confidence to pursue their passions! In addition to skills in STEM, the group will develop soft skills and learn more about both the university life and career options beyond. PAGES will feature an extended stay on campus one night of the week, allowing the group to eat dinner together and learn more about university life.