Hiring
Want to become an Instructor? Applications are done through Recruit Guelph!
Every summer Creative Encounters looks for enthusiastic, hard-working, positive role models who have the passion to teach youth. Instructors are responsible for designing and presenting in-school workshops in May and June, as well as designing and implementing the camp curriculum in July and August.  Your contributions to the program will help inspire thousands of youth in the fields of science, engineering, technology, and math.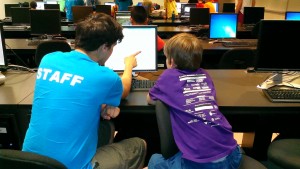 Who?
Undergraduate students enrolled at the University of Guelph in a S.T.E.M. related field.
---
 Why?
Instructors at Creative Encounters have a big role, to teach STEM curriculum while maintaining a fun, positive and hands-on learning environment. This is an excellent opportunity to gain teaching experience, take part of educational initiatives and experience a phenomenal summer! Take the time to explore our website and discover what Creative Encounters is about. If you have any questions please do not hesitate to contact us at cse@uoguelph.ca
---
 How?
Cover letters & Resumes sent through Recruit Guelph

Regular Stream Students: Search for STEM Instructor on Recruit Guelph
Co-op Students: Search for STEM Instructor on Recruit Guelph
---
 Interviews
1. Group Interviews: Take place on February 11th
2. Individual Interviews: Take place over the 2 weeks following
All notifications will be done through Recruit Guelph
Note: Please do not send any resumes to cse@uoguelph.ca