School Workshops
What is a CES Workshop?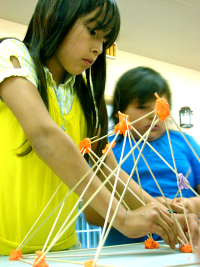 A Creative Encounters workshop is a 1 or 1.5 hour presentation delivered by two University of Guelph undergraduate students to an elementary school classes (of an average class size of 25 students) geared towards students in kindergarten to Grade 8. Each workshop is tailored to the appropriate grade level of the class and includes a hands-on activity that each student participates in. The workshop topics have been chosen on the basis of creating a diverse selection of Science and Engineering topics that complement the elementary school curriculum.
Creative Encounters is excited to offer TEN different workshop topics in 2014.
Workshops are designed and taught by Creative Encounters staff members who are dynamic undergraduate students studying science or engineering at the University of Guelph. There is one female and one male staff member leading each workshop in order to promote gender equity, and to provide positive role models for future scientists of both genders. The instructors strive to create fun and energetic presentations with hands-on elements, thus providing the students with a positive image of science, engineering and technology.
When are Creative Encounters workshops offered in 2014?
May 5th to May 23rd, and June 2nd to June 24th
We can run up to three workshops at one time and a total of 12 workshops in one day!
Workshop Times
Workshop slot 1: before morning recess
Workshop slot 2: after morning recess
Workshop slot 3: before afternoon recess
Workshop slot 4: after afternoon recess
*Note: You will be asked to specify the times your school follows
What Will it Cost?
$65.00 per workshop, except Robotics 101 ($85)
How do I Register?
To register for workshops, you can either click the online registration link below and follow the steps, or download our registration form and workshop package, then fill out the appropriate fields and mail or fax it to us! If you have questions, email us at cse@uoguelph.ca.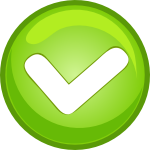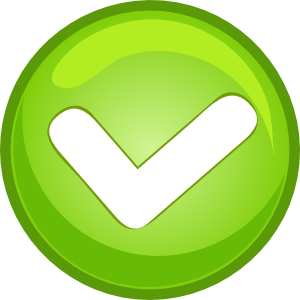 ONLINE REGISTRATION!
or…
Creative Encounters
Rm 1519 RICH Building
School of Engineering
University of Guelph
Guelph, ON
N1G 2W1
fax: 519 836 0227

What are the 2014 Workshops?
Physical Wonders Science Show (JK-Gr.8)
Always a hit with any age group, the Physical Wonders workshop is a combination of the coolest chemical and physical science demonstrations available to classrooms. Students will learn about the different scientific phenomena they see by level-appropriate explications and real-life example of these concepts. This exciting workshop will really get the kids stoked about science!
Curriculum ties: energy; properties of liquids & solids; forces causing movement; conservation of energy
Exciting Engineering (Gr. 3-8)
Teamwork and problem solving are the keys to this workshop! Just like real engineers, students will team up and go through the design process necessary to complete the building challenge, all while taking into account different constraints and criteria!
Curriculum ties: forces causing movement; energy in movement; structure and function; systems in action
See the Seasons (JK- Gr. 3)
Ever wonder why the leaves change colour or why bears hibernate in the winter? Or how come the seasons in Canada are different than other places in the world? In this workshop students will learn everything about the seasons from what they are and why they happen to how it affects animals and ecosystems.
Curriculum ties: earth and space, daily and seasonal changes, changes in ecosystems
Everything Environment (Gr. 2-8)
The environment is a hot topic in today's scientific community and this workshop touches on many of the key concepts. Students will learn about air and water quality, water systems, and soil. In addition students will learn about how humans impact the environment and how changes in the environment affect ecosystems.
Curriculum ties: interactions in the environment, soils, water systems, air and water in the environment
Fun with Forces (Gr. 4-8)
Every day we use simple machines to make tough tasks easier sometimes without even knowing it! In this workshop students will learn all about forces and how simple machines reduce the forces we are required to exert. Concepts will include pulleys, gears, levers, hydraulics and pneumatics.
Curriculum ties: forces, simple machines, energy
ORGAN-ize your Body (Gr. 4-8)
In this workshop student will learn about the cells, tissues and organ systems that we're made of. They'll investigate the function of each organ system and learn about how they are needed for us to live. They will also learn how other animals differ from humans
Curriculum ties: cells, human organ systems, human functions
Habitats around Home (JK-Gr. 3)
In this workshop students will learn all about the local the habitats and ecosystems that surround them as well as some other unique habitats in Canada. They'll learn about the plants, animals and water systems that make habitats unique
Curriculum ties:Ecosystems; habitats and communities, growth and changes in plants and animals, climate, needs and characteristics of living things
Magnificent Materials (Gr. 4-8)
Ever wonder how a bridge is strong and sturdy but a straw is thin and flimsy? Learn all about the unique types of matter that surround us every day! With emphasis on common elements and minerals, students can grasp properties and applications of daily materials.
Curriculum ties:strong and stable structures, materials, properties of solids
Power Hour (Gr. 6-8)
When we think of circuitry, most people picture a jumble of wires, funky devices and complex circuit boards. In this workshop, students will use our brand new snap circuit kits to see that circuits aren't as complex as one may think! Applying electrical concepts to hands-on circuit activities will help students understand the interesting properties of electricity and make them see electronics in a whole new way!
Curriculum ties: Electrical energy, electrical devices, circuits.
Robotics 101 (Gr. 4-8)
Whether it is to change the TV channel remotely or quickly assemble a car, robots play a vital part in our ever-changing world. But what exactly constitutes a robot? Students in this workshop will dissect this question in detail to better understand the inner-workings of these machines. They will then apply this knowledge by building their very own Lego NXT robots from the ground up!
*Note: there is a maximum of 30 students, due to LEGO kits. Workshop duration is 3 hours and school breaks will be accommodated
Curriculum ties: electricity and electrical devices, systems in action, technology